Producer Luke Beaulac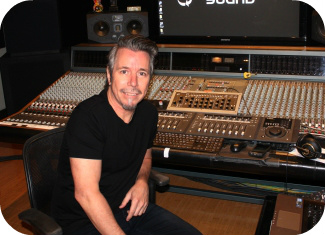 Owner/ Producer, Luke Beaulac has been highly active in the music scene since the age of 12 when he first started playing guitar. His first major accomplishment was learning the guitar solo to Stairway to Heaven at the ripe old age of 14. From there, he toured extensively with several local bands and when not on the road, recorded numerous projects.
His first eye-opening studio experience was working with producer Nick Blagona, who had just completed Deep Purple's Perfect Stranger album. "It was while recording with Nick that I finally understood what it meant to work with a producer, as opposed to working with an engineer that just pressed play & record". This experience helped to carve out a path for what was to become of his recording and production career.
Years later, still playing & recording music, he joined Famous Jane, a group signed to a subsidiary of Sony Records. "This was an awesome band with the best musicians I have ever had the privilege to play with, but unfortunately, it was not meant to be." A few years later, he decided to build his own "Home" studio and started producing/recording other local artists in the Ottawa area.
Riding on the success of his home studio, Luke decided to build a professional studio. In 2002, the design of Studio 88 was conceived from the ground up. "It took approximately one year to build, but it was worth all the time and money invested." Studio 88 (Still owned by Luke) is still in operations and doing well to this day.
In 2011, Luke decided to build a new studio in beautiful Florida. Having done his research, he decided on Orlando as the city of choice. "This was not an easy move, nor was it an easy undertaking, but as always I persevered and succeeded. I love this studio!" Evermore Sound recording studio officially saw the light of day on March 2012.
It is Luke's philosophy to always better himself, and that is why he likes to *fly* with the eagles, so to speak. Throughout the years, he has worked along side and learned from some of the world's best producers such as: Daniel Lanois (U2, Peter Gabriel), Michael Wagener (Ozzy Osbourne, Metallica), Charles Dye (Aerosmith, Ricky Martin) & Alan Parsons (Pink Floyd – Dark side of the moon)
Working with over 50 artists in its first year, Luke Beaulac is very optimistic about the future of Evermore Sound.
Check out the rave reviews for yourself. [Read Testimonials]