Studio A - The Neve Room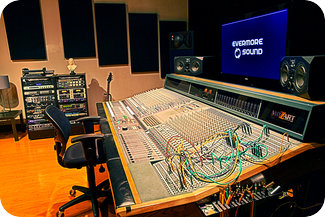 The original Evermore Sound studio - the Neve Room opened its doors on March 2012. The studio was designed by owner/producer Luke Beaulac with the help of renowned studio designer Dave Rochester from Technical Audio Services.
At the center of the control room is the Amek\Neve Mozart console with 40 channels of pristine, vintage Neve modules. This is the highly sought after warm analogue sound that everyone is looking for.
Studio A has wide array of vintage analogue hardware gear such as Universal Audio, Eventide, Lexicon, Crane Song, API, Chandler, etc. [See full list here]
Monitors are the ubiquitous S3A Adams for nearfields and the JBL 4430s for mains. Both of which have been tuned by Technical Audio Service. We also use the HearBack system for headphone monitoring.
Clients love the vibe!
The studio's large control room is very comfortable and has a great vibe. The 22' x 34' tracking room is great for any size projects, bands, ensemble, choirs, etc. It's also a great room for tracking drums.
Call us now for more details at 407-218-5953.
Check out more photos of our main studio - the Neve Room. [View Photos]